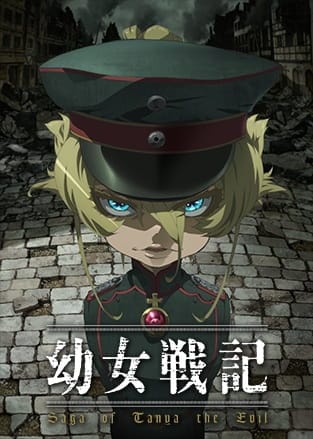 Aired: Jan 6, 2017 to Mar 31, 2017
Duration: 24 min. per ep.
Viewed: 162
Synonyms: Youjo Senki (Dub)
Tanya Degurechaff is a young soldier infamous for predatorial-like ruthlessness and an uncanny, tactical aptitude, earning her the nickname of the "Devil of the Rhine." Underneath her innocuous appearance, however, lies the soul of a man who challenged Being X, the self-proclaimed God, to a battle of wits—which resulted in him being reincarnated as a little girl into a world of magical warfare. Hellbent on defiance, Tanya resolves to ascend the ranks of her country's military as it slowly plunges into world war, with only Being X proving to be the strongest obstacle in recreating the peaceful life she once knew. But her perceptive actions and combat initiative have an unintended side effect: propelling the mighty Empire into becoming one of the most powerful nations in mankind's history. [Written by MAL Rewrite]
Serebryakova, Viktoriya Ivanovna

Main

Degurechaff, Tanya

Main

Weiss, Matheus Johann

Supporting

von Zettour, Hans

Supporting

von Walhorf, Kurst

Supporting

von Vist, Harald

Supporting

von Ugar, Maximilian Johann

Supporting

von Schugel, Adelheid

Supporting

von Rudersdorf, Kurt

Supporting

von Rerugen, Erich

Supporting

von Hans, Mortiz-Paul

Supporting

Sioux, Mary

Supporting

Sioux, Anson

Supporting

Sean

Supporting

Schwarzkopf, Ihlen

Supporting

Schubert, Aisha

Supporting

Schreise, Heinrich

Supporting

Ragald

Supporting

Neumann, Rhiner

Supporting

Koenig, Wilibald

Supporting
Because we are making use of some free resources to reduce the main server load, the player can be opened on another domain or showed as a new tab (you have to allow pop-up if you're not using Chrome).