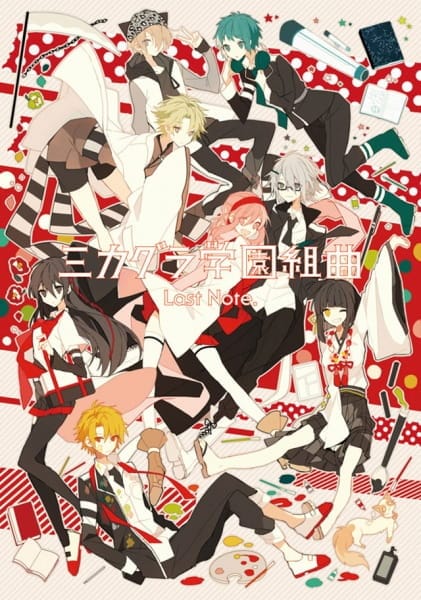 Aired: Feb 25, 2015
Duration: 3 min. per ep.
Viewed: 10
Synonyms: Mikagura Gakuen Kumikyoku
As a new student, Eruna Ichinomiya meets various strangers, learns about their clubs, and helps them with their problems. Houkago Stride Eruna was hardly prepared to go to her new school, but that's no matter. Leading it off with an enormous stride, she will hop, step, and jump her way through, showing her unparalleled motivation and optimistic outlook. One, two, three—she'll shout out her excitement with the fire of a toy gun! Mukiryoku Coup d'Etat As an actor, Yuuto Akama is accustomed to playing different roles, and real life is just another one of these. He wears a practiced smile and a carefree attitude, but inside, a war is waging. A personality squashed and imprisoned... Yuuto puts down the coup d'état of his former self, all to maintain his perfect facade. But no matter how much time passes, the memories don't disappear, and he can never stop the flames of rebellion of his heart. Uchouten Vivace With a cheerful hop and skip, Himi Yasaka shows Eruna all the fun and excitement of the Calligraphy Club. It's a rhythmic and all-encompassing art; although calligraphy may take a bit of practice, anyone can do it. All you need is an ecstatic vivace! Garakuta Innocence No matter what saturation, contrast, or hue, painter Kyouma Kuzuryuu cannot create a work that is good enough. Everything, including himself, always falls short. He lies to himself that this is what he always wanted, but in the end, he is still another piece of trash. Is there any salvation for the lonesome and self-deprecating Kyouma? Izayoi Seeing Asuhi Imizu has lived his life secluded from others. Gazing at the night sky through his telescope, he draws new constellations in his mind. However, like the sun after a rainstorm, Eruna brightens his life, helping him open up to others. Together, they view a 16-day-old moon; all the while, Asuhi is guided by her light. [Written by MAL Rewrite]
Because we are making use of some free resources to reduce the main server load, the player can be opened on another domain or showed as a new tab (you have to allow pop-up if you're not using Chrome).