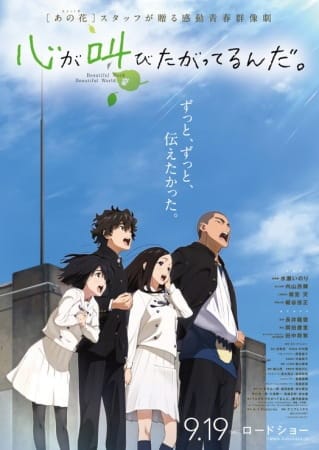 Aired: Sep 19, 2015
Duration: 1 hr. 59 min.
Viewed: 26
Synonyms: Kokoro ga Sakebitagatterunda.
Jun Naruse is a chatterbox whose life is colored by fairy tales and happy endings. However, influenced by her deep belief in those tales, she is too naive and trusting, and her words soon shatter her family's bond when she inadvertently reveals her father's affair. Naruse is scarred for life after being blamed for her parent's divorce, and her regrets soon manifest into a fairy egg—a being who seals her mouth from speaking in order to protect everyone's happy ending. Now, even in high school, Naruse's speech remains locked by the fairy egg. Even trying to speak causes her stomach to twist. Though unable to convey her thoughts through words, she is unexpectedly chosen to perform in a musical alongside three other students: Takumi Sakagami, Natsuki Nitou, and Daiki Tasaki. Naruse makes her way to the club room to reject the daunting task, but changes her mind when she overhears Sakagami's beautiful singing. Perhaps the fairy egg "curse" does not apply to singing, and perhaps Sakagami is the fairy tale prince she has been seeking all along. Will Naruse be able to convey the anthem of her heart? [Written by MAL Rewrite]
Nitou, Natsuki

Main

Sakagami, Takumi

Main

Tasaki, Daiki

Main

Naruse, Jun

Main

Odagiri, Hana

Supporting

Yamaji, Kazuharu

Supporting

Okada, Manami

Supporting

Saitou, Gorou

Supporting

Sakagami, Yasohachi

Supporting

Sakagami, Shin

Supporting

Shibuya, Akihisa

Supporting

Shimizu, Ryou

Supporting

Suzuki, Akiko

Supporting

Takamura, Kaori

Supporting

Tanaka, Riku

Supporting

Tochikura, Chiho

Supporting

Uno, Youko

Supporting

Watanabe, Misa

Supporting

Watarai

Supporting

Nishigori, Takuya

Supporting
Because we are making use of some free resources to reduce the main server load, the player can be opened on another domain or showed as a new tab (you have to allow pop-up if you're not using Chrome).