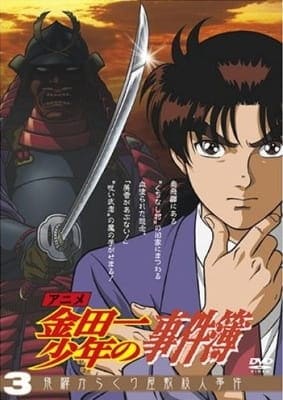 Aired: Apr 7, 1997 to Sep 11, 2000
Duration: 24 min. per ep.
Viewed: 3
Synonyms: Les Enquetes de Kindaichi, Young Kindaichi's Casebook, Kindaichi Case Files, 金田一少年の事件簿
Hajime Kindaichi's unorganized appearance and lax nature may give the impression of an average high school student, but a book should never be judged by its cover. Hajime is the grandson of the man who was once Japan's greatest detective, and he is also a remarkable sleuth himself. With the help of his best friend, Miyuki Nanase, and the peculiar inspector Isamu Kenmochi, Hajime travels to remote islands, ominous towns, abysmal seas, and other hostile environments. His life's mission is to uncover the truth behind some of the most cunning, grueling, and disturbing mysteries the world has ever faced. [Written by MAL Rewrite]
Kenmochi, Isamu

Main

Kindaichi, Hajime

Main

Nanase, Miyuki

Main

Akashi, Michio

Supporting

Ishii, Masayuki

Supporting

Senda, Saruhiko

Supporting

Mimasaka, Midori

Supporting

Yang, Lai Li

Supporting

Ishikawa, Takashi

Supporting

Akazawa, Jirou

Supporting

Ishiyama, Seiji

Supporting

Minamiyama, Shunzou

Supporting

Sendou, Yutaka

Supporting

Yang, Xiao Long

Supporting

Akazutsumi, Kyousuke

Supporting

Itami, Gorou

Supporting

Minatoya, Asuka

Supporting

Senke, Takashi

Supporting

Yang, Wang

Supporting

Akechi, Kengo

Supporting
Comming soon!!! But still, you're very handsome.
Please comment for requesting this anime.