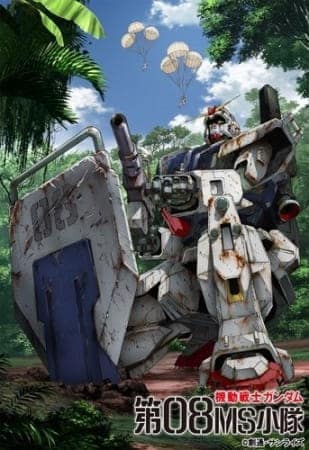 Aired: Jan 25, 1996 to Jul 25, 1999
Duration: 24 min. per ep.
Viewed: 25
Synonyms: Mobile Suit Gundam: The 08th MS Team
In year 0079 of the Universal Century, the Earth Federation initiates Operation Odessa—a full-scale assault to retake a major Ukrainian city from the Principality of Zeon. It is a success, and the remaining Zeon forces scatter across the globe. The Earth Federation gains the upper hand in the One Year War and deploys its ground troops around the planet to hunt down the stragglers. As part of the deployments, Ensign Shiro Amada is transferred to Southeast Asia to take command of the 08th MS Team—a special squadron of RX-79[G] Gundam Ground Type pilots. In their first guerilla operation, Shiro's team is tasked with distracting the Zeon forces while Federation ground troops locate a mysterious new Zeon weapon. Everything goes according to plan until Shiro runs into Aina Sahalin, an ace Zeon pilot he met in an earlier battle, during a skirmish. Their reunion weakens his resolve to continue fighting, and now the young commander Shiro must prove his loyalty to the Federation—or be branded a traitor. [Written by MAL Rewrite]
Joshua, Karen

Main

Massis, Eledore

Main

Ninorich, Michel

Main

Sahalin, Aina

Main

Sanders Jr., Terry

Main

Amada, Shiro

Main

Nickard, Jidan

Supporting

Zabi, Gihren

Supporting

Nieba

Supporting

Noppo

Supporting

Packard, Norris

Supporting

Rob

Supporting

Rosita, Kiki

Supporting

Rosita, Baresto

Supporting

Ryer, Ethan

Supporting

Sahalin, Ginias

Supporting

Sally

Supporting

Ship's Captain

Supporting

Suppression Forces Messenger

Supporting

Topp

Supporting
Because we are making use of some free resources to reduce the main server load, the player can be opened on another domain or showed as a new tab (you have to allow pop-up if you're not using Chrome).