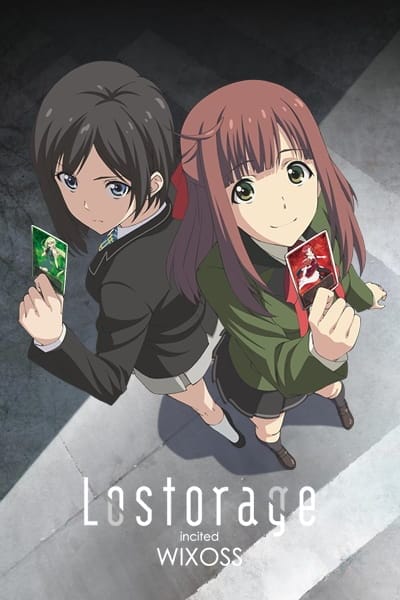 Aired: Oct 8, 2016 to Dec 24, 2016
Duration: 23 min. per ep.
Viewed: 32
Synonyms: Lostorage Incited WIXOSS
High school student Homura Suzuko has returned to Ikebukuro, the town where she grew up. "We're friends forever!" She treasures her memories of her old friend from when she was little, Morikawa Chinatsu, and she's excited at the prospect of meeting her again. But when she gets to school, she finds she has trouble fitting in with the rest of the class. One day, she decides that if she learns to play the card game WIXOSS, she might be able to make some friends. She stops at a card shop on her way home and buys a deck set. When she takes the set home and opens it, the girl on one of the cards begins to move, and speak. "Welcome, Selector." Humans chosen as Selectors must battle for control of the five coins that hold all their memories. If they can retake all the coins, they win, and can leave the game. But if they lose, as a penalty— "Lostorage"—What will become of Suzuko as she's caught up in this insane game? And just like Suzuko, Chinatsu finds herself drawn into the game as well... (Source: Crunchyroll)
Mikage, Hanna

Main

Morikawa, Chinatsu

Main

Homura, Suzuko

Main

Yukino, Kagari

Supporting

Yukime

Supporting

Sumida, Sou

Supporting

Shirai, Shouhei

Supporting

Satomi, Kou

Supporting

Remember

Supporting

Piruluk

Supporting

Piruluk, Allos

Supporting

Oshiba, Rio

Supporting

Narumi, Aya

Supporting

Narumi, Masaru

Supporting

Nanashi

Supporting

Mel

Supporting

Mama

Supporting

Lil

Supporting

Hanna's Older Sister

Supporting

Hajimari no LRIG

Supporting
Because we are making use of some free resources to reduce the main server load, the player can be opened on another domain or showed as a new tab (you have to allow pop-up if you're not using Chrome).