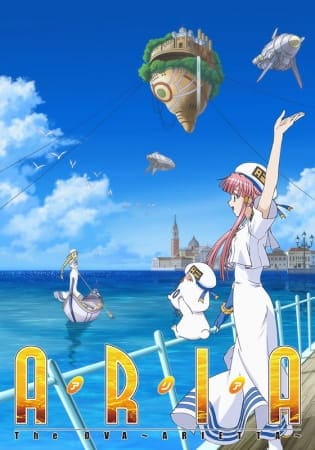 Aired: Sep 21, 2007
Duration: 30 min.
Viewed: 9
Synonyms: Aria the OVA: Arietta
Akari Mizunashi dreams of life after attaining her goal of becoming a Prima Undine, but upon waking realizes that she might not actually have the confidence to run Aria Company on her own. Wary of the future, she seeks advice from her mentor Alicia Florence—one of the three great "Water Fairies" of Neo-Venezia. Much to Akari's surprise, Alicia reveals her own struggles of the past, but also shares the steps she took in overcoming her self-doubt of running the company and taking on an apprentice. Finding solace in her teacher's words, Akari prepares to embrace whatever trials she must overcome on her path toward achieving her dreams. [Written by MAL Rewrite]
Florence, Alicia

Main

Mizunashi, Akari

Main

Pokoteng, Aria

Main

Aino, Ai

Supporting

Ametsuchi, Akino

Supporting

Ayanokouji the 51st, Udo

Supporting

Carroll, Alice

Supporting

Ferrari, Akira E.

Supporting

Glory, Athena

Supporting

Granzchesta, Aika S.

Supporting

Izumo, Akatsuki

Supporting

New person in dream

Supporting

Pitt, Albert

Supporting
Because we are making use of some free resources to reduce the main server load, the player can be opened on another domain or showed as a new tab (you have to allow pop-up if you're not using Chrome).