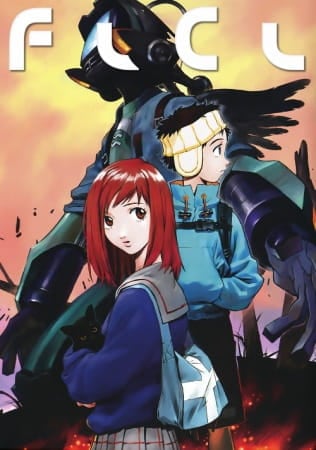 Aired: Apr 26, 2000 to Mar 16, 2001
Duration: 25 min. per ep.
Viewed: 61
Synonyms: Fooly Cooly
Naota Nandaba is an ordinary sixth grader living in a city where nothing amazing ever seems to happen. After his brother Tasuku leaves town to play baseball in America, Naota takes it upon himself to look after everything Tasuku left behind—from his top bunk bed to his ex-girlfriend Mamimi Samejima, who hasn't stopped clinging to Naota since Tasuku left. Little does Naota know, however, that his mundane existence is on the verge of being changed forever: enter Haruko Haruhara, a Vespa-riding, bass guitar-wielding, pink-haired psychopath whose first encounter with Naota leaves him with tire tracks on his back and a giant horn on his head. Though all he wants is some peace and quiet, when Haruko takes up residence at his parents' home, Naota finds himself dragged into the heart of the greatest battle for supremacy that Earth—and quite possibly the entire universe—has ever seen. [Written by MAL Rewrite]
Because we are making use of some free resources to reduce the main server load, the player can be opened on another domain or showed as a new tab (you have to allow pop-up if you're not using Chrome).