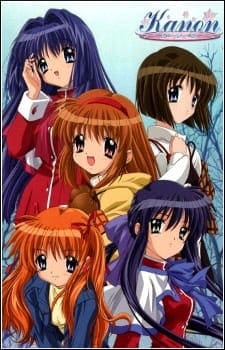 Aired: Oct 6, 2006 to Mar 16, 2007
Duration: 24 min. per ep.
Viewed: 3
Synonyms: Kanon, Kanon Remake, Kanon 2006, カノン (2006)
As a young child, Aizawa Yuuichi had often visited his cousin in the city; however, something drastic happened to keep him away for seven long years. Now, Yuuichi returns, his memories of those days are simply gone. Settling into the wintry town, Yuuichi comes across several young girls, all of whom are connected to his past. As he befriends them and continues to interact with them, the long forgotten memories from his childhood begin to resurface... [Written by MAL Rewrite]
Aizawa, Yuuichi

Main

Kawasumi, Mai

Main

Minase, Nayuki

Main

Misaka, Shiori

Main

Sawatari, Makoto

Main

Tsukimiya, Ayu

Main

Amano, Mishio

Supporting

Doctor

Supporting

Kitagawa, Jun

Supporting

Kurata, Sayuri

Supporting

Kurata, Kazuya

Supporting

Kuze

Supporting

Mai's Mother

Supporting

Minase, Akiko

Supporting

Misaka, Kaori

Supporting

Mishio's Classmate

Supporting

Mr. Ishibashi

Supporting

Piro

Supporting

Sayuri's Father

Supporting

Shiori's Classmate

Supporting
Comming soon!!! But still, you're very handsome.
Please comment for requesting this anime.