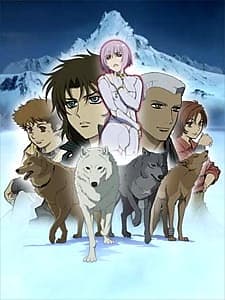 Aired: Jan 23, 2004 to Feb 25, 2004
Duration: 23 min. per ep.
Viewed: 2
Synonyms: Wolf's Rain OVA, ウルフズ・レイン
As the world accelerates toward its own destruction, Kiba and Cheza—with the help of Tsume, Hige, Toboe, and Blue—race to reach true paradise before the entire world is rendered uninhabitable. Now reunited, Cher and Hubb decide to accompany the wolves in hopes of seeing the journey through to its end, while a distraught and confused Quent wanders aimlessly into the wasteland with his mind fixated on revenge. Meanwhile, Lord Darcia the Third has finally put his plot into motion and pursues Cheza, pitting him against the pack. As everything falls apart yet simultaneously falls into place, the wolves struggle to survive in an increasingly dangerous environment. Though the end draws near, paradise seems further away than ever before. [Written by MAL Rewrite]
Comming soon!!! But still, you're very handsome.
Please comment for requesting this anime.