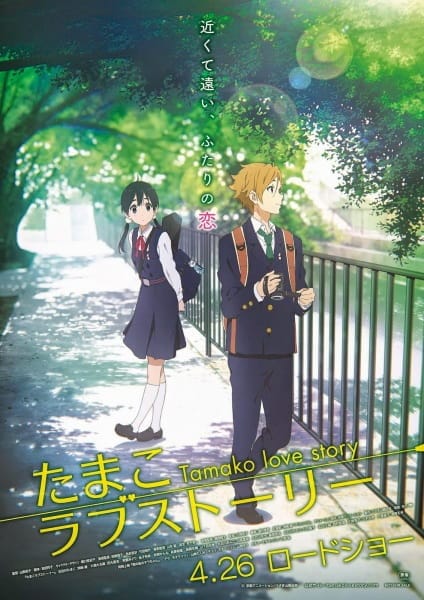 Aired: Apr 26, 2014
Duration: 1 hr. 23 min.
Viewed: 18
Synonyms: Tamako Market Movie, たまこラブストーリー
As she edges toward the end of her high school life, the energetic but generally clueless third-year Tamako Kitashirakawa has only one major concern: pulling off a stunning baton performance at the Usagiyama Marching Festival. But all too soon, she is confronted by the reality that all her friends have big plans for their futures; she, on the other hand, just operates with the moderate goal of continuing to work at her family's restaurant. Under the same brilliant sky, Mochizou Ooji intends to study at a university in Tokyo, leaving behind his family, friends, and most importantly, his first and only love Tamako. Unfortunately, the shy admirer cannot bring himself to declare his love, and Tamako is yet unaware that she is the source of such anguish. With time quickly running out, Mochizou must confess his feelings to Tamako soon, or his dream of romance will never be fulfilled. [Written by MAL Rewrite]
Kitashirakawa, Tamako

Main

Makino, Kanna

Main

Ooji, Mochizou

Main

Tokiwa, Midori

Main

Asagiri, Shiori

Main

Yumoto, Chouji

Supporting

Yumoto, Sayuri

Supporting

Yaobi, Kunio

Supporting

Uotani, Mari

Supporting

Uotani, Takashi

Supporting

Tokiwa, Nobuhiko

Supporting

Shiraki, Tadanao

Supporting

Shimizu, Tomio

Supporting

Ooji, Michiko

Supporting

Ooji, Gohei

Supporting

Momotarou

Supporting

Mochimazzi, Mecha

Supporting

Mochimazzi, Choi

Supporting

Mochimazzi, Dera

Supporting

Mitsumura, Fumiko

Supporting
Comming soon!!! But still, you're very handsome.
Please comment for requesting this anime.