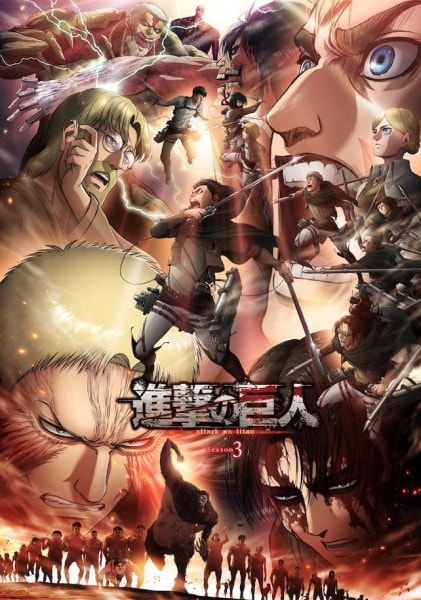 Aired: Apr 29, 2019 to Jul 1, 2019
Duration: 23 min. per ep.
Viewed: 889
Synonyms: Shingeki no Kyojin Season 3 Part 2
Seeking to restore humanity's diminishing hope, the Survey Corps embark on a mission to retake Wall Maria, where the battle against the merciless "Titans" takes the stage once again. Returning to the tattered Shiganshina District that was once his home, Eren Yeager and the Corps find the town oddly unoccupied by Titans. Even after the outer gate is plugged, they strangely encounter no opposition. The mission progresses smoothly until Armin Arlert, highly suspicious of the enemy's absence, discovers distressing signs of a potential scheme against them. Shingeki no Kyojin Season 3 Part 2 follows Eren as he vows to take back everything that was once his. Alongside him, the Survey Corps strive—through countless sacrifices—to carve a path towards victory and uncover the secrets locked away in the Yeager family's basement. [Written by MAL Rewrite]
Arlert, Armin

Main

Levi

Main

Smith, Erwin

Main

Yeager, Eren

Main

Ackerman, Mikasa

Main

Klaus

Supporting

Zoë, Hange

Supporting

Kruger, Eren

Supporting

Ksaver, Tom

Supporting

Lenz, Krista

Supporting

Leonhart, Annie

Supporting

Peaure

Supporting

Pixis, Dot

Supporting

Reeves, Flegel

Supporting

Rheinberger, Anka

Supporting

Roy

Supporting

Springer, Connie

Supporting

Yeager, Carla

Supporting

Yeager, Fay

Supporting

Yeager, Grisha

Supporting
Because we are making use of some free resources to reduce the main server load, the player can be opened on another domain or showed as a new tab (you have to allow pop-up if you're not using Chrome).