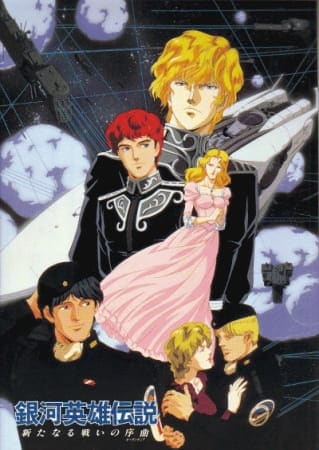 Aired: Dec 18, 1993
Duration: 1 hr. 30 min.
Viewed: 26
Synonyms: Ginga Eiyuu Densetsu: Arata Naru Tatakai no Overture
Led by Reinhard von Müsel, the Galactic Empire crushes the Free Planets Alliance in the Fourth Battle of Tiamat. Arriving in the Imperial capital of Odin to a hero's welcome, Reinhard's victory earns him a promotion to High Admiral and the distinguished title of Count von Lohengramm. On the other side, Yang Wen-li safely returns to the Alliance capital of Heinessen without fanfare and reunites with his dear friends. Reinhard and Yang look forward to a long-awaited reprieve. However, at the request of the scheming Duke Otho von Braunschweig, the Imperial High Command orders the new High Admiral to invade the Alliance with a fleet of twenty thousand ships. After the Duke leaks the plan to the Alliance government, three fleets totalling forty thousand ships are sent to counter the incoming attack and recreate the famous Battle of Dagon. But even though Reinhard is outnumbered two to one, he has an ingenious plan—and Yang sees right through it. Will Yang's superiors heed his warning before it is too late? [Written by MAL Rewrite]
von Lohengramm, Reinhard

Main

Yang, Wen-li

Main

Kircheis, Siegfried

Main

von Westpfahle, Magdalena

Supporting

von Reuenthal, Oskar

Supporting

von Merkatz, Willibald Joachim

Supporting

von Grünewald, Annerose

Supporting

von Fahrenheit, Adalbert

Supporting

Truniht, Job

Supporting

Steinhof

Supporting

Sitolet, Sidney

Supporting

Paeta

Supporting

Narrator

Supporting

Moore

Supporting

Mittermeyer, Wolfgang

Supporting

Minci, Julian

Supporting

Lap, Jean Robert

Supporting

Lao

Supporting

Edwards, Jessica

Supporting

Cazellnu, Alex

Supporting
Because we are making use of some free resources to reduce the main server load, the player can be opened on another domain or showed as a new tab (you have to allow pop-up if you're not using Chrome).