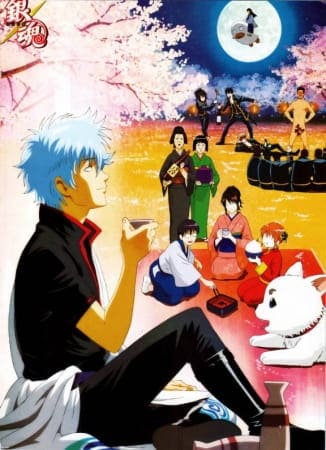 Aired: Sep 24, 2005
Duration: 32 min.
Viewed: 15
Synonyms: Gintama: Jump Festa 2005 Special, 銀魂〜何事も最初が肝心なので多少背伸びするくらいが丁度良い〜
This special is a set of short comedy stories involving Gintoki and his equally-broke sidekicks Shinpachi and Kagura. One day, Gintoki and his comrades are out viewing the spring flowers when suddenly the Shinsengumi appear, arguing that Gintoki has taken their flower-viewing spot. Gintoki's team and the Shinsengumi must then battle for the right to sit in that spot by using a violent version of rock paper scissors. (Source: ANN)
Sakata, Gintoki

Main

Shimura, Shinpachi

Main

Kagura

Main

Yamazaki, Sagaru

Supporting

Terakado, Tsu

Supporting

Shimura, Tae

Supporting

Sadaharu

Supporting

Prince Hata

Supporting

Otose

Supporting

Okita, Sougo

Supporting

Kondou, Isao

Supporting

Katsura, Kotarou

Supporting

Jii

Supporting

Hijikata, Toushirou

Supporting

Hasegawa, Taizou

Supporting

Elizabeth

Supporting

Catherine

Supporting
Comming soon!!! But still, you're very handsome.
Please comment for requesting this anime.