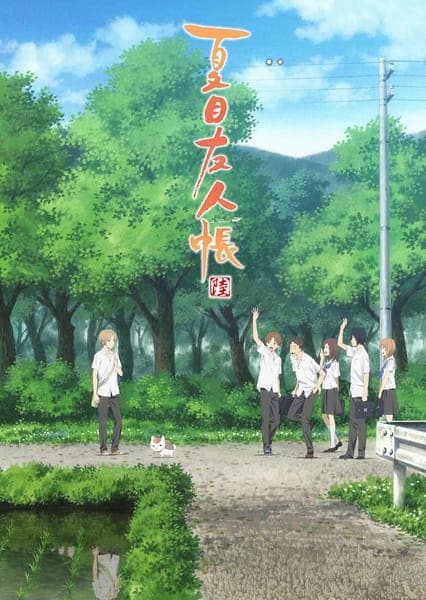 Aired: Apr 12, 2017 to Jun 21, 2017
Duration: 23 min. per ep.
Viewed: 20
Synonyms: Natsume's Book of Friends Season 6, Natsume Yuujinchou Season 6, Natsume's Book of Friends Six, 夏目友人帳 陸
Takashi Natsume has grown accustomed to his encounters with youkai through the Book of Friends, which contains the names of youkai whom his grandmother, Reiko Natsume, has sealed in contracts. These encounters allow Natsume to better understand the youkai, Reiko, and himself. The Book of Friends is a powerful tool that can be used to control youkai; it is sought after by both youkai and exorcists alike. Natsume just wants to live out his daily life in peace but is constantly disrupted by these experiences. If he is to end this torment, Natsume must explore more about the book and the world of exorcism, as well as begin to open his heart to those who can help him. [Written by MAL Rewrite]
Natsume, Takashi

Main

Madara

Main

Nanamaki

Supporting

Ushikao no Chuukyuu Youkai

Supporting

Natori, Shuuichi

Supporting

Natsume, Reiko

Supporting

Nishimura, Satoru

Supporting

Rat-faced Youkai

Supporting

Sasada, Jun

Supporting

Sasago

Supporting

Shibata, Katsumi

Supporting

Sonokawa, Kaoru

Supporting

Taki, Tooru

Supporting

Takuma

Supporting

Tanuma, Kaname

Supporting

Tsukiko

Supporting

Urihime

Supporting

Misuzu

Supporting

Kitamoto, Atsushi

Supporting

Kappa

Supporting
Comming soon!!! But still, you're very handsome.
Please comment for requesting this anime.