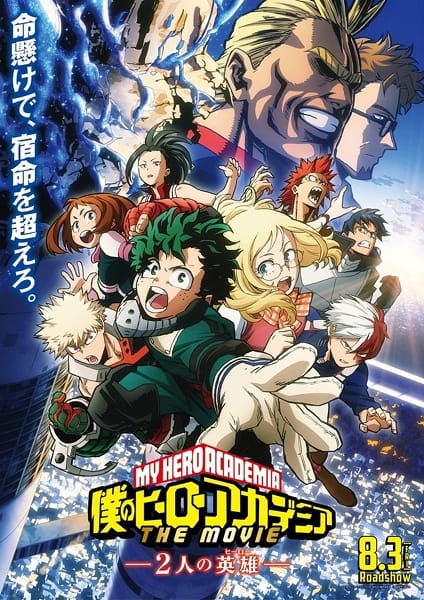 Aired: Aug 3, 2018
Duration: 1 hr. 36 min.
Viewed: 47
Synonyms: Boku no Hero Academia the Movie: Futari no Hero
U.A. High School's students of Class 1-A have made it to summer break. Izuku Midoriya accompanies his mentor All Might to a celebratory superhero festival on I-Island, an isolated patch of land dedicated to researching Quirks and everything else associated with the hero business. Midoriya is granted the opportunity to meet All Might's friend Dave and Dave's daughter Melissa, two talented hero equipment engineers. He also encounters his classmates, most of whom have been given the opportunity to spend part of their summer break at the festival. However, a mysterious squad of villains infiltrates I-Island, and it is up to Midoriya and his friends to confront them, using their developing Quirks to fight off the new enemy and uncover a treacherous plot. [Written by MAL Rewrite]
Midoriya, Izuku

Main

Shield, Melissa

Main

All Might

Main

Yaoyorozu, Momo

Supporting

Wolfram

Supporting

Uraraka, Ochako

Supporting

Tokoyami, Fumikage

Supporting

Todoroki, Shouto

Supporting

Shouji, Mezou

Supporting

Shield, David

Supporting

Sero, Hanta

Supporting

Satou, Rikidou

Supporting

Mr. Plastic

Supporting

Mineta, Minoru

Supporting

Kirishima, Eijirou

Supporting

Kaminari, Denki

Supporting

Jirou, Kyouka

Supporting

Iida, Tenya

Supporting

Hagakure, Tooru

Supporting

Electoplant

Supporting
Because we are making use of some free resources to reduce the main server load, the player can be opened on another domain or showed as a new tab (you have to allow pop-up if you're not using Chrome).