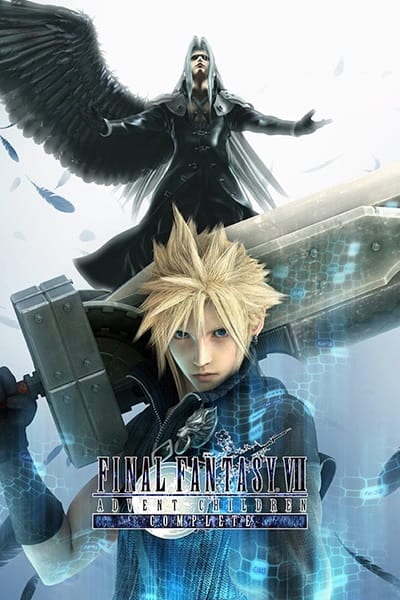 Aired: Apr 16, 2009
Duration: 2 hr. 6 min.
Viewed: 12
Synonyms: Final Fantasy 7: Advent Children Complete, ファイナルファンタジーVII アドベントチルドレンコンプリート
AC: Complete contains a considerable amount of new footage that the original version lacks, as well as roughly a thousand revised scenes. This adds a total of 26 minutes to the film. Some of the new scenes include a more in-depth look at the Geostigma, Denzel and Kadaj's origins, as well as an extended fight between Cloud and Sephiroth. The Japanese release of this edition features a new ending track from Kyosuke Himuro called "Safe and Sound", with additional lyrics from My Chemical Romance frontman Gerard Way. The track replaces Himuro's previous track "Calling" from the original cut of the film. However, in the North American release, the song "Calling" remains, and "Safe and Sound" is absent. (Source: Wikipedia)
Kadaj

Main

Lockhart, Tifa

Main

Sephiroth

Main

Strife, Cloud

Main

Denzel

Supporting

Elena

Supporting

Fair, Zack

Supporting

Gainsborough, Aerith

Supporting

Highwind, Cid

Supporting

Kisaragi, Yuffie

Supporting

Loz

Supporting

Moogle Girl

Supporting

Red XIII

Supporting

Reno

Supporting

Rude

Supporting

Shinra, Rufus

Supporting

Sith, Cait

Supporting

Tseng

Supporting

Tuesti, Reeve

Supporting

Valentine, Vincent

Supporting
Comming soon!!! But still, you're very handsome.
Please comment for requesting this anime.