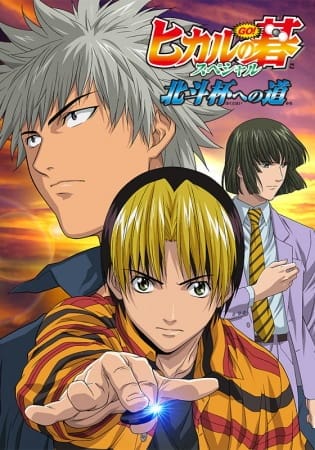 Aired: Jan 3, 2004
Duration: 1 hr. 17 min.
Viewed: 14
Synonyms: Hikaru no Go: Hokuto Hai e no Michi
Hikaru is given a phone call asking him to appear in the Japan/China/Korea Junior's Tournament but he finds out he will have to take place in a preliminary tournament to choose Japan's three contestants. Upon discussing this with Akira, he discovers that Akira has already been chosen for the tournament and will not be taking place in the preliminaries. Hikaru then decides not to visit Akira's Go Salon until he takes his place on the team with Akira. That may be tougher than originally planned, as not only does Hikaru have to battle with old friends for one of two coveted spots, but he may have a new challenger, in a promising player from the Kansai Go Institute. (Source: ANN)
Shindou, Hikaru

Main

Touya, Akira

Main

Fujisaki, Akari

Supporting

Isumi, Shinichiro

Supporting

Ko, Yeong-ha

Supporting

Kurata, Atsushi

Supporting

Kuwabara, Honinbou

Supporting

Morishita, Shigeo

Supporting

Ochi, Kousuke

Supporting

Ogata, Seiji

Supporting

Shindou, Father

Supporting

Shindou, Mother

Supporting

Waya, Yoshitaka

Supporting

Yashiro, Kiyoharu

Supporting
Because we are making use of some free resources to reduce the main server load, the player can be opened on another domain or showed as a new tab (you have to allow pop-up if you're not using Chrome).