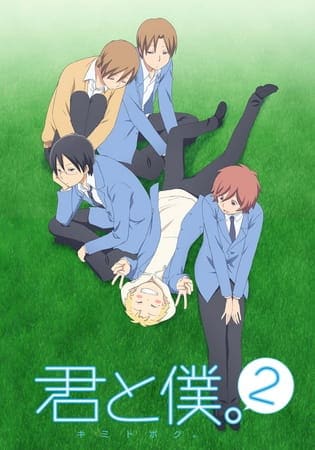 Aired: Apr 3, 2012 to Jun 26, 2012
Duration: 24 min. per ep.
Viewed: 4
Synonyms: You and Me 2, You and Me. Second Season, Kimi to Boku. 2nd Season, 君と僕。2
"No matter how many years go by, I'm sure we'll still be laughing together." Twins Yuta and Yuki, Kaname, and Shun have been childhood friends since kindergarten. When transfer student Chizuru joins them, their five man school life becomes all the more lively. Through the changing seasons, the boys will find laughter, surprises, love, and new encounters waiting for them. The second season of the boys growing a little every day of their invaluable daily lives is about to begin! (Source: Crunchyroll)
Asaba, Yuuki

Main

Matsuoka, Shun

Main

Tachibana, Chizuru

Main

Tsukahara, Kaname

Main

Asaba, Yuuta

Main

Tsunashi

Supporting

Tsukahara, Yoko

Supporting

Takahashi, Rina

Supporting

Store Manager

Supporting

Satou, Masaki

Supporting

Sakura, Kayo

Supporting

Okamoto, Akihiro

Supporting

Matsushita, Ryuunosuke

Supporting

Matsuoka, Fuyuki

Supporting

Mamiya, Kyouko

Supporting

Azuma, Kouichi

Supporting

Asaba, Mother

Supporting

Asaba, Father

Supporting

Akira

Supporting

Aida, Hisako

Supporting
Comming soon!!! But still, you're very handsome.
Please comment for requesting this anime.