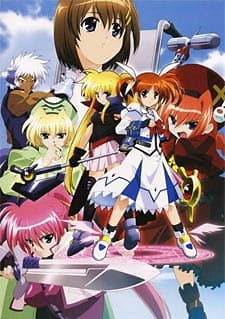 Aired: Oct 2, 2005 to Dec 25, 2005
Duration: 25 min. per ep.
Viewed: 16
Synonyms: Magical Girl Lyrical Nanoha A's, Mahou Shoujo Lyrical Nanoha A's, 魔法少女リリカルなのは エース
After solving the incident of the scattered Jewel Seeds, Nanoha Takamachi happily returns to her everyday life, though now with added magic practice in the morning. Exchanging video messages with Fate Testarossa and the crew of the Arthra, Nanoha eagerly awaits the chance to speak with them in person again. But while studying in her room one day, Raising Heart suddenly calls out to Nanoha and warns her of an incoming attack! The attacker is a young girl named Vita, who calls herself a Belka Knight. She proves her strength by using an intelligent device with a mysterious cartridge system to quickly overwhelm Nanoha. Luckily, the Space-Time Administration Bureau is able to step in before she is completely crushed. Vita and her fellow knights Shamal, Signum, and Zafila are on a mission to steal magical power from mages in order to complete the Book of Darkness, one of the Lost Logia. For what sinister purpose are the knights after this Book of Darkness? [Written by MAL Rewrite]
Signum

Main

Takamachi, Nanoha

Main

Testarossa, Fate

Main

Vita

Main

Yagami, Hayate

Main

Zafila

Main

Shamal

Main

Lowran, Leti

Supporting

Tsukimura, Suzuka

Supporting

Reinforce I

Supporting

Reinforce II

Supporting

Scrya, Yuuno

Supporting

Takamachi, Miyuki

Supporting

Takamachi, Kyouya

Supporting

Takamachi, Shirou

Supporting

Takamachi, Momoko

Supporting

Testarossa, Precia

Supporting

Testarossa, Alicia

Supporting

Linith

Supporting

Limietta, Amy

Supporting
Comming soon!!! But still, you're very handsome.
Please comment for requesting this anime.