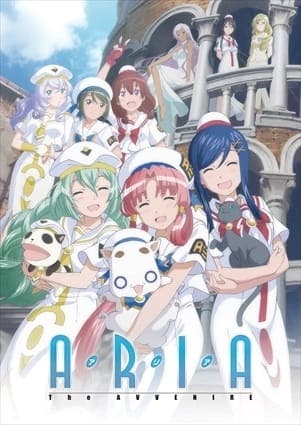 Aired: Sep 26, 2015
Duration: 21 min. per ep.
Viewed: 2
Synonyms: Aria the Avvenire, ARIA The AVVENIRE
Now that Akari Mizunashi is a Prima Undine and head of the Aria Company with her own apprentice, Ai Aino, she can't help but reminisce about her time as a Single. She has new responsibilities and much less time on her hands, but these changes bring with them new forms of miracles that Neo Venezia can give. Growing up into new roles is hard, but Akari can always count on the friends she's made on Aqua in times of need. [Written by MAL Rewrite]
Aino, Ai

Main

Carroll, Alice

Main

Dostoyevskaya, Anya

Main

Ferrari, Akira E.

Main

Florence, Alicia

Main

Glory, Athena

Main

Granzchesta, Aika S.

Main

McLaren, Azusa B.

Main

Mizunashi, Akari

Main

Pokoteng, Aria

Main

Ametsuchi, Akino

Supporting

Cat Sith

Supporting

Maa

Supporting
Comming soon!!! But still, you're very handsome.
Please comment for requesting this anime.