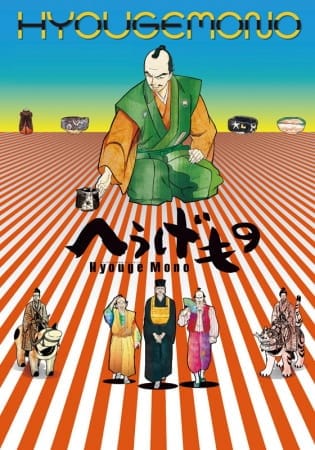 Aired: Apr 7, 2011 to Jan 26, 2012
Duration: 25 min. per ep.
Viewed: 9
Synonyms: Hyouge Mono
The story is set during Japan's Sengoku Jidai (Era of the Warring States) and centers on Furuta Sasuke, a vassal of the great warlord Oda Nobunaga and a man obsessed with tea ceremony and material desires in his pursuit of a fortuitous life. Having learned from Oda and the legendary tea master Sen no Soueki, Furuta walks the way of the Hyouge Mono. (Source: ANN)
Hashiba, Hideyoshi

Main

Oda, Nobunaga

Main

Senno, Soueki

Main

Tokugawa, Ieyasu

Main

Furuta, Sasuke

Main

Oda, Nobutada

Supporting

Oriki

Supporting

Oda, Nobukatsu

Supporting

Oda, Nagamasu

Supporting

Mouri, Terumoto

Supporting

Matsunaga, Hisahide

Supporting

Yasuke

Supporting

Nakagawa, Kiyohide

Supporting

Oda, Nobutaka

Supporting

Oda, Nagataka

Supporting

Ogin

Supporting

Oichi

Supporting

Okuni

Supporting

One

Supporting

Maeda, Toshiie

Supporting
Because we are making use of some free resources to reduce the main server load, the player can be opened on another domain or showed as a new tab (you have to allow pop-up if you're not using Chrome).