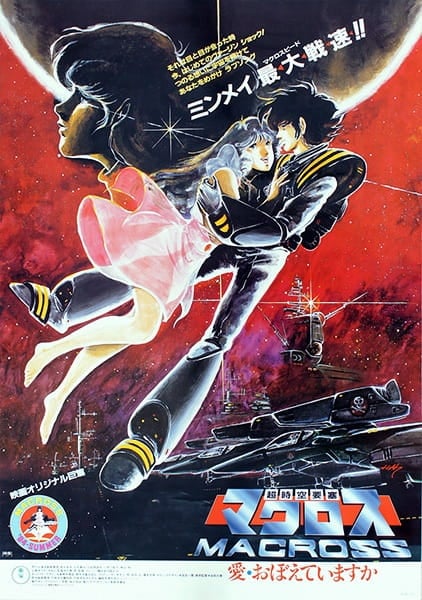 Aired: Jul 7, 1984
Duration: 1 hr. 55 min.
Viewed: 12
Synonyms: Clash of the Bionoids, Gekijouban Choujikuu Yousai Macross: Ai, Oboete Imasu ka, Macross in Clash Of The Bionoids, Super Dimensional Fortress Macross The Movie: Do You Remember Love?, Choujikuu Yousai Macross: Ai Oboete Imasuka, 超時空要塞マクロス -愛・おぼえていますか-
A.D. 2009. The human race is in the middle of a three-way war with a race of giant humanoid aliens called the Zentraedi (male) and Meltrandi (female). After executing a space fold that sent it and part of South Atalia Island to the edge of the Solar System, the space fortress Macross is on its way back to Earth. During a small skirmish with Zentraedi forces, young pilot Hikaru Ichijo rescues idol singer Lynn Minmay and their relationship develops as they're stranded somewhere within the ship. But shortly after returning to Macross City, Minmay is captured by the Zentraedi, and Hikaru and female officer Misa Hayase end up back on Earth—only to view the aftermath of the destruction of their civilization. Only a song discovered eons ago—along with Minmay's voice—can determine the outcome of the war. (Source: ANN)
Ichijou, Hikaru

Main

Lynn, Minmay

Main

Hayase, Misa

Main

von Fruhling, Riber

Supporting

Milliome, Shammy

Supporting

Lynn, Kaifun

Supporting

Laird, Vanessa

Supporting

La Salle, Claudia

Supporting

Kridanik, Vrlitwhai

Supporting

Kravshera, Quamzin

Supporting

Kakizaki, Hayao

Supporting

Kabirov, Kim

Supporting

Jenius, Maximilian

Supporting

Global, Bruno J.

Supporting

Folmo, Exsedol

Supporting

Focker, Roy

Supporting

Fallyna, Milia

Supporting

Boddole Zer, Golg

Supporting
Comming soon!!! But still, you're very handsome.
Please comment for requesting this anime.