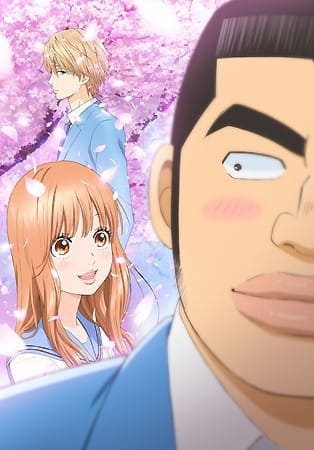 Aired: Apr 9, 2015 to Sep 24, 2015
Duration: 22 min. per ep.
Viewed: 22
Synonyms: My Love Story!!, Ore Monogatari!!, My Story!!, 俺物語!!
With his muscular build and tall stature, Takeo Gouda is not exactly your average high school freshman. However, behind his intimidating appearance hides a heart of gold, and he is considered a hero by the boys for his courage and chivalry. Unfortunately, these traits do not help much with his love life. As if his looks are not enough to scare the opposite sex away, Takeo's cool and handsome best friend and constant companion Makoto Sunakawa easily steals the hearts of the female students—including every girl Takeo has ever liked. When Takeo gallantly saves cute and angelic Rinko Yamato from being molested, he falls in love with her instantly, but suspects that she might be interested in Sunakawa. With his own love for Yamato continuing to bloom, Takeo unselfishly decides to act as her cupid, even as he yearns for his own love story. [Written by MAL Rewrite]
Gouda, Takeo

Main

Sunakawa, Makoto

Main

Yamato, Rinko

Main

Amami, Yukika

Supporting

Ayu

Supporting

Fudou

Supporting

Gouda, Yutaka

Supporting

Gouda, Yuriko

Supporting

Horiuchi

Supporting

Ichinose, Kouki

Supporting

Isono, Mizuki

Supporting

Isono, Unio

Supporting

Iwayama, Tsuyoshi

Supporting

Izumi

Supporting

Kakitani

Supporting

Kaneda

Supporting

Kayomi

Supporting

Kojima

Supporting

Kurihara, Osamu

Supporting

Mana

Supporting
Comming soon!!! But still, you're very handsome.
Please comment for requesting this anime.