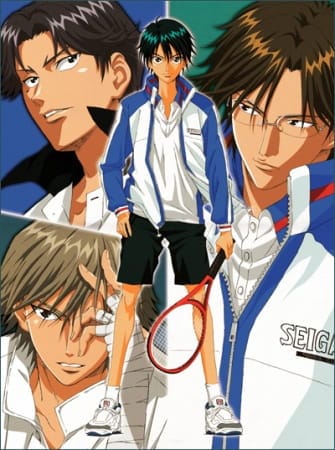 Aired: Mar 24, 2006 to Mar 23, 2007
Duration: 23 min. per ep.
Viewed: 7
Synonyms: Prince of Tennis: National Championship Chapter, PoT OVA, Tennis no Ouji-sama: Zenkoku Taikai hen, Prince of Tennis: The National Tournament, テニスの王子様 Original Video Animation 全国大会編
Seigaku continues their road to winning the National Championship, but only the best schools remain as they'll have to go toe-to-toe with old rivals and new foes in the National Tournament. (Source: ANN)
Fuji, Shuusuke

Main

Inui, Sadaharu

Main

Kaidou, Kaoru

Main

Kawamura, Takashi

Main

Kikumaru, Eiji

Main

Momoshiro, Takeshi

Main

Oishi, Shuichiro

Main

Tezuka, Kunimitsu

Main

Echizen, Ryouma

Main

Zaizen, Hikaru

Supporting

Sanada, Genichirou

Supporting

Ojii

Supporting

Niou, Masaharu

Supporting

Mukahi, Gakuto

Supporting

Ryuzaki, Sakuno

Supporting

Ryuzaki, Sumire

Supporting

Saeki, Kojirou

Supporting

Sakaki, Tarou

Supporting

Sakurai, Masaya

Supporting

Mori, Tatsunori

Supporting
Comming soon!!! But still, you're very handsome.
Please comment for requesting this anime.