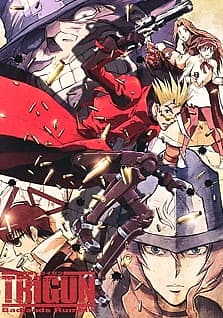 Aired: Apr 2, 2010
Duration: 1 hr. 30 min.
Viewed: 8
Synonyms: Trigun: Badlands Rumble
Vash the Stampede is a contradiction. He has a notorious reputation as "The Humanoid Typhoon," laying anything he comes across to waste on the desolate planet of Gunsmoke. However, Vash is in fact very non-confrontational and kind-hearted, living by a code of pacifism. Twenty years ago, a high-profile bank heist went sour. The ringleader, Gasback Gallon Getaway, swore to get back at his backstabbing crew and the man who stopped him from killing them: Vash the Stampede. In the present day, the traitorous crew has been living the good life as successful entrepreneurs and politicians. Although two decades have passed, Gasback's bitterness has not waned as he aims to take them down one by one, by any means necessary. Just in time to foil Gasback's plot, Vash has arrived in Macca City. Teaming up with the mysterious Amelia Ann McFly, along with the insurance agents Milly Thompson and Meryl Stryfe, Vash is ready to rumble. [Written by MAL Rewrite]
Because we are making use of some free resources to reduce the main server load, the player can be opened on another domain or showed as a new tab (you have to allow pop-up if you're not using Chrome).