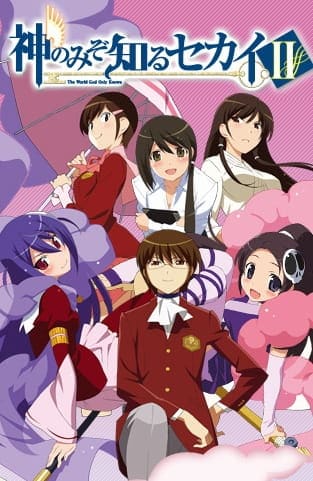 Aired: Apr 12, 2011 to Jun 28, 2011
Duration: 23 min. per ep.
Viewed: 17
Synonyms: The World God Only Knows Season 2
Keima Katsuragi, the "God of Conquest," returns to his quest of expelling runaway spirits that have possessed the hearts of women. Still stuck in his contract with the demon Elsie, he must continue to utilize the knowledge he has gained from mastering multitudes of dating simulators and chase out the phantoms that reside within by capturing the hearts of that which he hates most: three-dimensional girls. However, the God of Conquest has his work cut out for him. From exorcising karate practitioners and student teachers to the arrival of Elsie's best friend from Hell, he is up against a wide array of girls that will test his wit and may even take him by surprise. Though he would much rather stick to the world of 2D, he is trapped in lousy reality, and so Keima must trudge forward in his conquest of love. [Written by MAL Rewrite]
de Lute Ima, Elucia

Main

Katsuragi, Keima

Main

Dokurou Skull

Supporting

du Lot Herminium, Haqua

Supporting

Hatori, Yuu

Supporting

Kasuga, Kusunoki

Supporting

Katsuragi, Mari

Supporting

Kodama, Ichirou

Supporting

Kosaka, Chihiro

Supporting

Nagase, Jun

Supporting

Nikaido, Yuri

Supporting

Pitcher

Supporting

Sugimoto, Yotsuba

Supporting

Takahara, Ayumi

Supporting

Terada, Miyako

Supporting

Yoshino, Asami

Supporting
Because we are making use of some free resources to reduce the main server load, the player can be opened on another domain or showed as a new tab (you have to allow pop-up if you're not using Chrome).