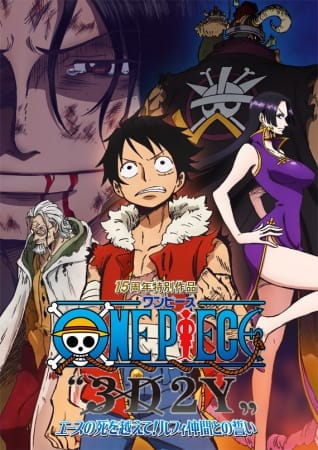 Aired: Aug 30, 2014
Duration: 1 hr. 47 min.
Viewed: 17
Synonyms: One Piece Special 15th Anniversary, ワンピース〝3D2Y〟 エースの死を越えて! ルフィ仲間との誓い
After suffering great personal loss during the battle of Marineford, Monkey D. Luffy finds himself stranded on Rusukaina, a treacherous island crawling with huge and dangerous creatures. There, he has committed himself to a two-year stretch of training to learn "Haki," the energy that combatants can use to grant themselves a variety of abilities in battle. Luffy is jerked away from his otherwise peaceful training by the abduction of Sandersonia and Marigold, sisters of his friend and ally Boa Hancock. With Boa's aid, Luffy seeks to track down the infamous pirate responsible for the kidnapping, a man whose recent prison break is the result of Luffy's own reckless actions. Luffy must use his developing grasp of Haki to defeat this new foe while coming to terms with his overbearing grief in the process. [Written by MAL Rewrite]
Comming soon!!! But still, you're very handsome.
Please comment for requesting this anime.