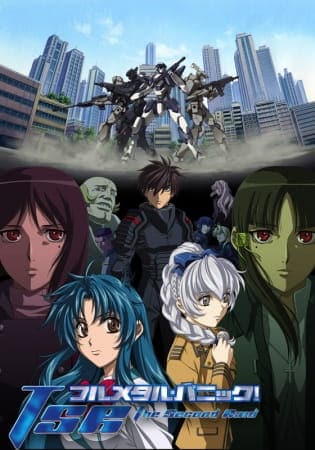 Aired: Jul 14, 2005 to Oct 20, 2005
Duration: 24 min. per ep.
Viewed: 23
Synonyms: Full Metal Panic! The Second Raid, Full Metal Panic! TSR, フルメタル パニック!The Second Raid
After overcoming various tumultuous events, mercenary sergeant Sousuke Sagara of Mithril and "Whispered" school girl Kaname Chidori return to their normal high school lives. Sousuke continues his efforts to assimilate with the civilian population and manage his mission at the same time, while Kaname attempts to support his endeavors (even though his antics often drive her up a wall). However, as their lives calm, new problems begin to appear. The appearance of an independent terrorist organization known as Amalgam and internal conflicts within Mithril threaten to wreak unity into a series of failures and betrayals. And new, powerful Arm Slave models only worsen the situation when the world's peace is at stake. As Kaname and Sousuke face their own inner battles amidst life-threatening fights, will they be able to make the right choices and change their future? [Written by MAL Rewrite]
Sagara, Sousuke

Main

Testarossa, Teletha

Main

Chidori, Kaname

Main

Xia, Yu Fan

Supporting

Xia, Yu Lan

Supporting

Wraith

Supporting

Weber, Kurz

Supporting

Topas

Supporting

Tokiwa, Kyouko

Supporting

Testarossa, Leonard

Supporting

Mardukas, Richard Henry

Supporting

Mao, Melissa

Supporting

Lemming, Nora

Supporting

Kazama, Shinji

Supporting

Kalinin, Andrei Sergeivich

Supporting

Kagurazaka, Eri

Supporting

Hunter, Gavin

Supporting

Gauron

Supporting

Gates

Supporting

Doumae

Supporting
Comming soon!!! But still, you're very handsome.
Please comment for requesting this anime.