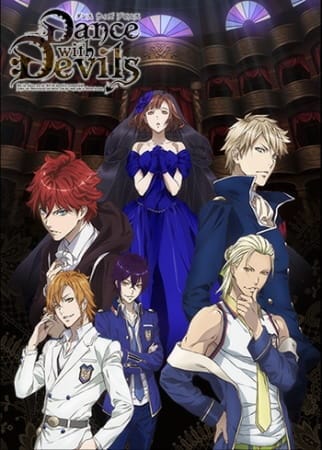 Aired: Oct 7, 2015 to Dec 23, 2015
Duration: 23 min. per ep.
Viewed: 1523
Synonyms: Dance with Devils
Ritsuka Tachibana has always been a good student, so she is completely shocked when she is suddenly summoned by the student council. Even more, they seem to think of Ritsuka as a troublemaker. Led by the handsome Rem Kaginuki, the student council—also consisting of Urie Sogami, Shiki Natsumizaka and Mage Nanashiro—tries to question her, but it soon becomes clear that they have ulterior motives. However, this is only the beginning. When her mother gets kidnapped, her life is turned upside down, and Ritsuka gets drawn into a world of vampires and devils. Both groups are searching for the "Grimoire," a forbidden item allowing its owner to rule the world. The return of her brother Lindo from overseas gives her hope, but even he appears to be hiding something. In a world filled with secrets, Ritsuka questions whom she can trust in this dark musical tale, while the handsome and dangerous members of the student council compete for her attention. [Written by MAL Rewrite]
Because we are making use of some free resources to reduce the main server load, the player can be opened on another domain or showed as a new tab (you have to allow pop-up if you're not using Chrome).