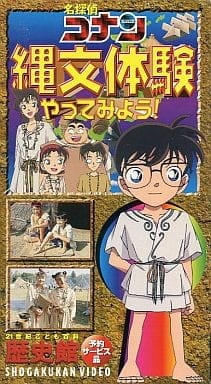 Aired: Jun 25, 1999
Duration: 15 min.
Viewed: 4
Synonyms: Meitantei Conan: Jomon Taiken Yatte Miyou!, 名探偵コナン 縄文体験やってみよう!
An educational Meitantei Conan OVA where the Shounen Tantei-dan (Detective Boys/The Junior Detective League) go on a field trip with Ran to learn about the Jomon Period of Japan, which is the earliest historical era of Japan. This OVA was released as a bundle with Shogakukan's Nijuuisseiki Kodomo Hyakka Rekishi-kan (21st Century Children's Encyclopedia History Museum). It uses animated characters on top of live-action backgrounds.
Comming soon!!! But still, you're very handsome.
Please comment for requesting this anime.