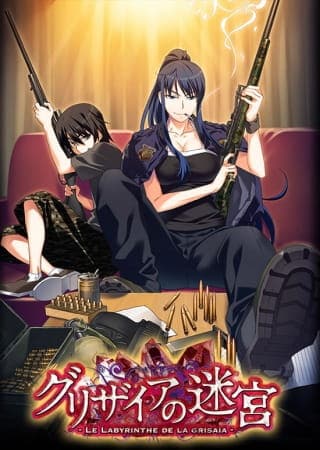 Aired: Apr 12, 2015
Duration: 47 min.
Viewed: 43
Synonyms: Grisaia no Meikyuu
Having attended Mihama Academy for about a year, Yuuji Kazami has seemingly found his place within the school, but he suddenly decides to pursue a promotion in CIRS. After consulting JB about his intentions, they both thoroughly examine Yuuji's documents and dissect the events of his upbringing to determine if the job is fit for him. Meanwhile, unbeknownst to the two, the girls of Mihama uncover some torn documents in Yuuji's room. After restoring the papers, they discover the story that has formed—or perhaps broken—Yuuji into the man he is today. However, what was thought to be history has haunted him to the present, and the chains of the past begin to drag him back into the darkness... [Written by MAL Rewrite]
Kazami, Yuuji

Main

Kazami, Ryouji

Supporting

Wallson, Robert

Supporting

Tachibana, Chizuru

Supporting

Suou, Amane

Supporting

Sakaki, Yumiko

Supporting

Oslo, Heath

Supporting

Matsushima, Michiru

Supporting

Kusakabe, Asako

Supporting

Komine, Sachi

Supporting

Kazami, Kazuki

Supporting

Kazami, Satoko

Supporting

Irisu, Makina

Supporting

Harudera, Yuria

Supporting

Garrett, Agnes

Supporting

Farrell, Chiara

Supporting

Born, Daniel

Supporting
Because we are making use of some free resources to reduce the main server load, the player can be opened on another domain or showed as a new tab (you have to allow pop-up if you're not using Chrome).