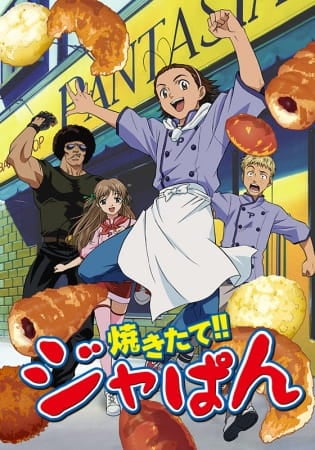 Aired: Oct 12, 2004 to Mar 14, 2006
Duration: 24 min. per ep.
Viewed: 38
Synonyms: Yakitate Japan
Yakitate means "fresh baked", but the word "Japan" is actually a pun - pan means bread in Japanese, so Kazuma is out to make Japan, a unique Japanese bread to compete with the best bread from around the world! Azuma became obsessed with bread when he was six years old. His sister yelled that their family should start having bread for breakfast sometimes, but their grandfather refused to even consider it, as he would only eat natto, miso soup, and rice for breakfast. Kazuma agreed, saying he didn`t like bread, but his sister kidnaps him and takes him to a bread store to show him the wonders of fresh-baked bread. Not only is Kazuma converted, but the owner discovers that Kazuma has the magical "Hands of the Sun" whose warmth makes them particularly suited to making bread. The owner packs up shop and goes to Tokyo to fulfill his dream of making Japan, but Kazuma continues his bread-baking dream as well, and ends up going to Tokyo himself when he`s sixteen, to compete for a spot at the foremost bread store in Japan - Pantasia!
Azusagawa, Tsukino

Main

Kanmuri, Shigeru

Main

Kawachi, Kyousuke

Main

Kuroyanagi, Ryo

Main

Matsushiro, Ken

Main

Suwabara, Kai

Main

Azuma, Kazuma

Main

Kinoshita, Kageto

Supporting

Muhammad

Supporting

Kayser, Gran

Supporting

Kayser, Edward

Supporting

Young Boy

Supporting

Kidd, Brad

Supporting

Leonhart, Maetel

Supporting

Leonhart XIV

Supporting

Matsushiro, Kaede

Supporting

Miki, Norihei

Supporting

Mokoyama, Tsuyoshi

Supporting

Motohashi, Yuuko

Supporting

Kayser, Bob

Supporting
Because we are making use of some free resources to reduce the main server load, the player can be opened on another domain or showed as a new tab (you have to allow pop-up if you're not using Chrome).