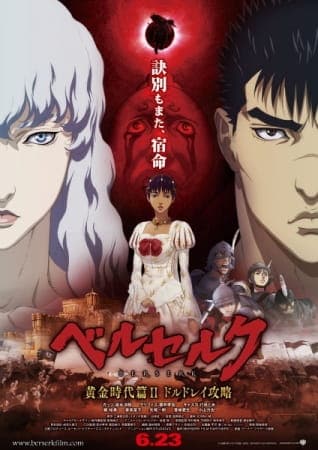 Aired: Jun 23, 2012
Duration: 1 hr. 32 min.
Viewed: 15
Synonyms: Berserk: The Golden Age Arc II - The Battle for Doldrey, Berserk Movie, Berserk Saga, ベルセルク 黄金時代篇Ⅱ ドルドレイ攻略
The Band of the Hawk and their enigmatic leader Griffith continue winning battle after battle as their prestige throughout the kingdom of Midland grows. But their latest task is one that has seen failure from everyone who has attempted it: the subjugation of the impenetrable fortress of Doldrey. But with members like Guts—the captain of the Hawks' raiders who can easily fell 100 men with his gigantic sword—such tasks prove to be trivial. However, in the aftermath of the battle, Guts decides to leave the Hawks in order to pursue his own dream and bids farewell to his companions, despite Griffith's attempts to make him stay. This single event causes Griffith to lose his composure, and leads him to make a decision that will alter his and the Hawks' fates forever. [Written by MAL Rewrite]
Comming soon!!! But still, you're very handsome.
Please comment for requesting this anime.