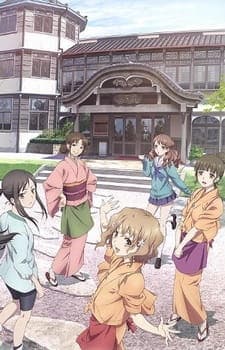 Aired: Apr 3, 2011 to Sep 25, 2011
Duration: 24 min. per ep.
Viewed: 37
Synonyms: Hanasaku Iroha: Blossoms for Tomorrow, 花咲くいろは
Ohana Matsumae is an energetic and wild teenager residing in Tokyo with her carefree single mother. Abruptly, her mother decides to run away with her new boyfriend from debt collectors, forcing the young girl to fend for herself—as per her mother's "rely only on yourself" philosophy—in rural Japan, where her cold grandmother runs a small inn. Driven to adapt to the tranquil lifestyle of the countryside, Ohana experiences and deals with the challenges of working as a maid, as well as meeting and making friends with enthralling people at her new school and the inn. [Written by MAL Rewrite]
Matsumae, Ohana

Main

Oshimizu, Nako

Main

Tsurugi, Minko

Main

Hiwatari, Kenji

Supporting

Hiwatari, Yousuke

Supporting

Hiwatari, Masako

Supporting

Igarashi, Namiko

Supporting

Isami, Tetsuo

Supporting

Jiroumaru, Tarou

Supporting

Kaito, Yuki

Supporting

Kawajiri, Takako

Supporting

Komatsu, Haruhiko

Supporting

Matsumae, Satsuki

Supporting

Misaki, Takuzou

Supporting

Miyagishi, Tooru

Supporting

Mizuno, Eri

Supporting

Oshimizu, Kayoko

Supporting

Oshimizu, Tamio

Supporting

Oshimizu, Mana

Supporting

Oshimizu, Tomoya

Supporting
Comming soon!!! But still, you're very handsome.
Please comment for requesting this anime.