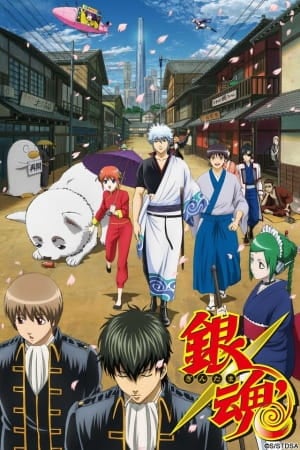 Aired: Apr 4, 2011 to Mar 26, 2012
Duration: 24 min. per ep.
Viewed: 55
Synonyms: Gintama Season 2, Gintama (2011), 銀魂'
After a one-year hiatus, Shinpachi Shimura returns to Edo, only to stumble upon a shocking surprise: Gintoki and Kagura, his fellow Yorozuya members, have become completely different characters! Fleeing from the Yorozuya headquarters in confusion, Shinpachi finds that all the denizens of Edo have undergone impossibly extreme changes, in both appearance and personality. Most unbelievably, his sister Otae has married the Shinsengumi chief and shameless stalker Isao Kondou and is pregnant with their first child. Bewildered, Shinpachi agrees to join the Shinsengumi at Otae and Kondou's request and finds even more startling transformations afoot both in and out of the ranks of the the organization. However, discovering that Vice Chief Toushirou Hijikata has remained unchanged, Shinpachi and his unlikely Shinsengumi ally set out to return the city of Edo to how they remember it. With even more dirty jokes, tongue-in-cheek parodies, and shameless references, Gintama' follows the Yorozuya team through more of their misadventures in the vibrant, alien-filled world of Edo. [Written by MAL Rewrite]
Sakata, Gintoki

Main

Shimura, Shinpachi

Main

Kagura

Main

Seita

Supporting

Matsudaira, Katakuriko

Supporting

Schneider, Isaac

Supporting

Sasaki, Tetsunosuke

Supporting

Sasaki, Isaburou

Supporting

Sarutobi, Ayame

Supporting

Sakurajima, Chiharu

Supporting

Sakamoto, Tatsuma

Supporting

Saigou, Tokumori

Supporting

Saigou, Teruhiko

Supporting

Sadaharu

Supporting

Saburo

Supporting

Recycle-shop Proprietress

Supporting

Musashi

Supporting

Nakasaki

Supporting

Mutsu

Supporting

Narasaki, Sachi

Supporting
Because we are making use of some free resources to reduce the main server load, the player can be opened on another domain or showed as a new tab (you have to allow pop-up if you're not using Chrome).
Comming soon!!! But still, you're very handsome.
Please comment for requesting this anime.