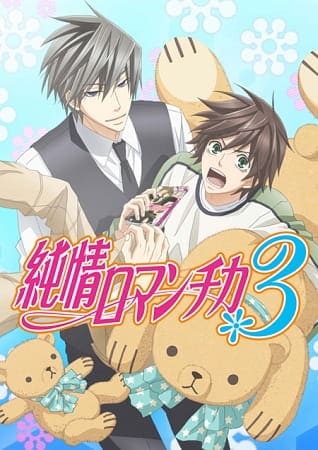 Aired: Jul 9, 2015 to Sep 24, 2015
Duration: 24 min. per ep.
Viewed: 10
Synonyms: Junjo Romantica 3, Junjou Romantica Third Season, 純情ロマンチカ 3
After living together for three years, Misaki Takahashi and Akihiko "Usagi" Usami's relationship has been progressing smoothly. However, all great relationships have problems, and theirs is just beginning. With a new rival on the horizon, Usagi worries about Misaki's feelings towards him. Meanwhile, Ryuuichirou Isaka has always loved to intrude on Misaki and Usagi's love life, but his own love life hasn't been all smooth sailing—Isaka and his secretary Kaoru Asahina have been dating for a few years; however, Asahina prefers to keep their professional and private lives separate, often leading to troubled waters between them. As for Nowaki Kusama and Hiroki Kamijou, now that their careers are finally taking off, they hardly see each other anymore. With the time they spend together lessening, doubts and insecurities threaten to creep in between them. On the other hand, the 17-year age gap between Shinobu Takatsuki and You Miyagi has been a constant barrier in their relationship, but as they learn more about each other, their self-consciousness continues to fade. The beloved couples of Junjou Romantica, Junjou Egoist, and Junjou Terrorist are back again, this time with a new addition: Junjou Mistake! [Written by MAL Rewrite]
Miyagi, You

Main

Takahashi, Misaki

Main

Takatsuki, Shinobu

Main

Usami, Akihiko

Main

Asahina, Kaoru

Main

Isaka, Ryuuichirou

Main

Kamijou, Hiroki

Main

Kusama, Nowaki

Main

Aikawa, Eri

Supporting

Ijuuin, Kyou

Supporting

Kirishima, Zen

Supporting

Shiiba, Mizuki

Supporting

Shizukuishi, Ryou

Supporting

Sumi, Keiichi

Supporting

Takahashi, Mahiro

Supporting

Takahashi, Takahiro

Supporting

Takatsuki, Risako

Supporting

Toudou, Shinnosuke

Supporting

Tsumori

Supporting

Usami, Haruhiko

Supporting
Comming soon!!! But still, you're very handsome.
Please comment for requesting this anime.