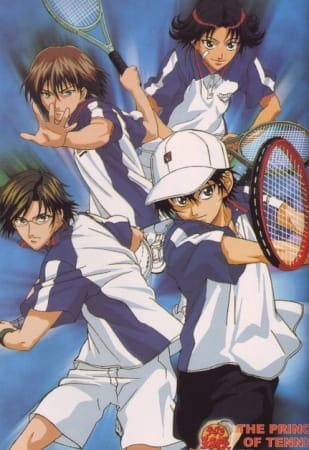 Aired: Oct 10, 2001 to Mar 23, 2005
Duration: 22 min. per ep.
Viewed: 47
Synonyms: The Prince of Tennis, テニスの王子様
The world of tennis is harsh and highly competitive. Numerous schools from Japan battle it out to determine the best of the best. Seishun Gakuen Junior High School, more commonly known as Seigaku, is one of the most prominent contestants in this battle of the finest. Their team line-up gets even stronger with the sudden arrival of a young prodigy from the West, Ryouma Echizen, who is determined to prove himself and escape the towering shadow of his legendary father. This fine addition changes the team forever. Prince of Tennis follows the heartwarming and inspirational story of Ryouma on his quest to become one of the best tennis players the country has ever seen. He pushes himself hard so that he can one day surpass his father's name and his own personal expectations. Alongside the rest of the Seigaku team, Ryouma fights to make his and his teammate's dreams come true.
Fuji, Shuusuke

Main

Inui, Sadaharu

Main

Kaidou, Kaoru

Main

Kawamura, Takashi

Main

Kikumaru, Eiji

Main

Momoshiro, Takeshi

Main

Oishi, Shuichiro

Main

Tezuka, Kunimitsu

Main

Echizen, Ryouma

Main

Osakada, Tomoka

Supporting

Muromachi, Touji

Supporting

Ootori, Choutarou

Supporting

Ryuzaki, Sumire

Supporting

Kuwahara, Jackal

Supporting

Oshitari, Yuushi

Supporting

Ojii

Supporting

Nomura, Takuya

Supporting

Nitobe, Inakichi

Supporting

Niou, Masaharu

Supporting

Ryuzaki, Sakuno

Supporting
Comming soon!!! But still, you're very handsome.
Please comment for requesting this anime.