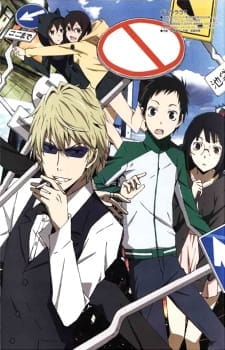 Aired: Aug 25, 2010 to Feb 23, 2011
Duration: 23 min. per ep.
Viewed: 3
Synonyms: Durarara!! Specials, Durarara!! Episode 12.5, Durarara!! Episode 25, Dhurarara!!, Dyurarara!!, Dulalala!!, Dullalala!!, DRRR!! OVA, デュラララ!!
Celty Sturluson is tasked to deliver a suspicious red handbag as part of her courier duties—the problem is: it is being sought by several organizations. As she makes her way through Ikebukuro toward the place the bag is supposed to be brought to, she is chased by mysterious men speaking a foreign language, and her package ends up dragging many of the city's residents into the conflict. Subsequently, famous actor Yuuhei Hanejima has just arrived in Ikebukuro as part of a special TV program, searching for the best couple to give them a chance to appear in one of his movies. However, Yuuhei Hanejima is actually a stage name for Kasuka Heiwajima, Shizuo's younger brother, and when an anonymous internet user threatens to kill the superstar, this user learns the weight of what that relationship means. Moreover, Shizuo discovers that the one responsible for the attempted attack is the meddlesome pest that he loathes with a burning passion. [Written by MAL Rewrite]
Sonohara, Anri

Main

Sturluson, Celty

Main

Heiwajima, Shizuo

Main

Orihara, Izaya

Main

Ryuugamine, Mikado

Main

Brezhnev, Semyon

Supporting

Dian, Isaac

Supporting

Harima, Mika

Supporting

Harvent, Miria

Supporting

Heiwajima, Kasuka

Supporting

Hiroshi

Supporting

Kadota, Kyouhei

Supporting

Karisawa, Erika

Supporting

Kida, Masaomi

Supporting

Kishitani, Shinra

Supporting

Kuzuhara, Kinnosuke

Supporting

Maruoka, Ginjirou

Supporting

Mikajima, Saki

Supporting

Orihara, Mairu

Supporting

Orihara, Kururi

Supporting
Comming soon!!! But still, you're very handsome.
Please comment for requesting this anime.