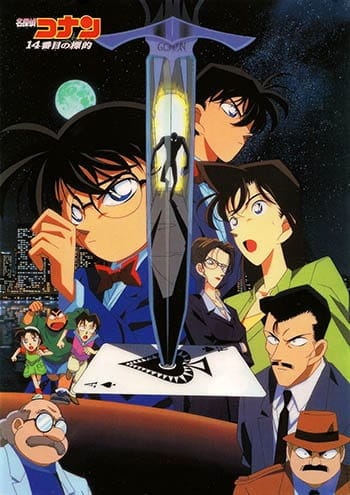 Aired: Apr 18, 1998
Duration: 1 hr. 39 min.
Viewed: 5
Synonyms: Case Closed: The Fourteenth Target, Meitantei Conan: Jyuuyonbanme no Target, 名探偵コナン 14番目の標的
A mysterious attacker has appeared and is assaulting people whose names contain a number from the standard deck of cards in descending order. When Conan Edogawa points out that all the victims are related to the now famous detective Kogorou Mouri, suspicion immediately falls upon the recently released convict Jou Murakami, as Kogorou was the one responsible for his arrest ten years prior. With potential victims still at risk, Conan and the police are determined to catch the culprit. As the case gradually unfolds, both Conan and his friend Ran Mouri learn more about her parents' separation and the truth on what transpired a decade ago. [Written by MAL Rewrite]
Edogawa, Conan

Main

Mouri, Ran

Main

Mouri, Kogorou

Main

Agasa, Hiroshi

Supporting

Kisaki, Eri

Supporting

Kojima, Genta

Supporting

Kuriyama, Midori

Supporting

Megure, Juuzou

Supporting

Murakami, Jou

Supporting

Nishina, Minoru

Supporting

Okano, Towako

Supporting

Osanai, Nana

Supporting

Sawaki, Kouhei

Supporting

Shiratori, Ninzaburou

Supporting

Shishido, Eimei

Supporting

Suzuki, Sonoko

Supporting

Tsuburaya, Mitsuhiko

Supporting

Tsuji, Hiroki

Supporting

Yoshida, Ayumi

Supporting
Comming soon!!! But still, you're very handsome.
Please comment for requesting this anime.