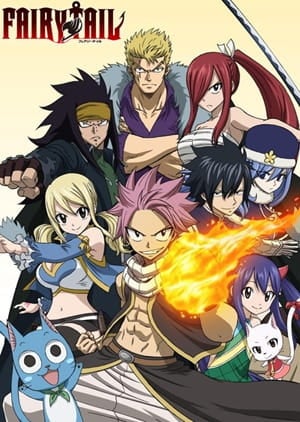 Aired: Apr 5, 2014 to Mar 26, 2016
Duration: 24 min. per ep.
Viewed: 30
Synonyms: Fairy Tail Series 2, Fairy Tail Season 2, FAIRY TAIL(フェアリーテイル)
The Grand Magic Games reaches its climax following Natsu Dragneel and Gajeel Redfox's stunning victory over Sting Eucliffe and Rogue Cheney of the Sabertooth guild. This success pushes the Fairy Tail guild closer to being crowned the overall champions, but obtaining victory isn't the only challenge they face. A mystery still surrounds a hooded stranger and the ominous Eclipse Gate, leaving more questions than answers. More crazy adventures are on the horizon for Fairy Tail as their destructive antics and joyful rowdiness continue unabated. Their greatest trial is quickly approaching, but united as a family, the guild will always be ready to face any threat that comes their way. [Written by MAL Rewrite]
Dragneel, Natsu

Main

Fullbuster, Gray

Main

Happy

Main

Heartfilia, Lucy

Main

Marvell, Wendy

Main

Scarlet, Erza

Main

Charlés

Main

Milkovich, Ultear

Supporting

Porlyusica

Supporting

Millianna

Supporting

Mine, Wakaba

Supporting

Mini

Supporting

Mulan, Bisca

Supporting

Nanagear, Orga

Supporting

Narrator

Supporting

Nekis, Jura

Supporting

Neppa

Supporting

Plue

Supporting

Pisces, Mother

Supporting

Pisces, Son

Supporting
Comming soon!!! But still, you're very handsome.
Please comment for requesting this anime.