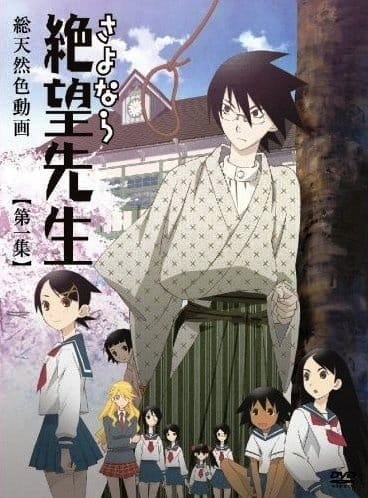 Aired: Jul 8, 2007 to Sep 23, 2007
Duration: 24 min. per ep.
Viewed: 36
Synonyms: Sayonara Zetsubou Sensei
Nozomu Itoshiki is a high school teacher so pessimistic that even the smallest of misfortunes can send him into a pit of raging despair; some of these "catastrophes" even lead to suicide attempts. Sayonara Zetsubou Sensei is a satirical slice-of-life comedy set in the modern day, covering various aspects of Japanese life and culture through Nozomu and his interactions with his students: Kiri Komori, a recluse who refuses to leave the school; Abiru Kobushi, an enigma who frequently arrives to class with severe and mysterious injuries; the hyper-optimistic Kafuuka Fuura, Nozomu's polar opposite; and several other unusual girls, all of whom are just as eccentric as their teacher. [Written by MAL Rewrite]
Itoshiki, Nozomu

Main

Fuura, Kafuka

Main

Usui, Kagerou

Supporting

Tsunetsuki, Matoi

Supporting

Sekiutsu, Tarou

Supporting

Otonashi, Meru

Supporting

Mitama, Mayo

Supporting

Kudou, Jun

Supporting

Kotonon

Supporting

Komori, Kiri

Supporting

Kobushi, Abiru

Supporting

Kobushi, Father

Supporting

Kitsu, Chiri

Supporting

Kimura, Kaere

Supporting

Kaga, Ai

Supporting

Jinroku

Supporting

Itoshiki, Mikoto

Supporting

Itoshiki, Rin

Supporting

Itoshiki, Majiru

Supporting

Hitou, Nami

Supporting
Because we are making use of some free resources to reduce the main server load, the player can be opened on another domain or showed as a new tab (you have to allow pop-up if you're not using Chrome).