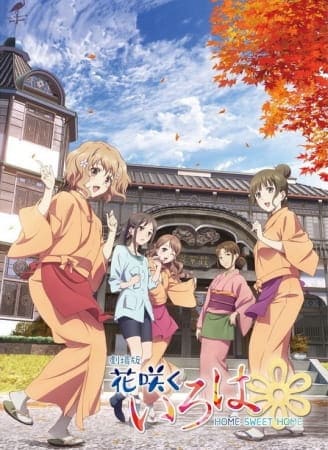 Aired: Mar 9, 2013
Duration: 1 hr. 6 min.
Viewed: 7
Synonyms: Hanasaku Iroha the Movie: Home Sweet Home, 花咲くいろは Home Sweet Home
Ohana Matsumae has been working at Kissui Inn as a waitress for a while now. However, she realizes that she is starting to lose her desire to sparkle, having grown accustomed to the routines of her job. As this was a desire she had when she first moved to the inn, the realization bothers her. While having Yuina Wakura—Ohana's classmate, friend, and the daughter of rival Fukuya Inn's owner—under her as an apprentice, Ohana stumbles upon some old archives that mention her mother, Satsuki. Ohana does not know much about her mother, but these archives could shed some light on her past. Besides learning more about her mother, it is business as usual at Kissui Inn—though with a couple of challenges to test Ohana and the staff of the inn. [Written by MAL Rewrite]
Matsumae, Ohana

Main

Oshimizu, Nako

Main

Tsurugi, Minko

Main

Matsumae, Satsuki

Main

Wakura, Yuina

Supporting

Wajima, Tomoe

Supporting

Togashi, Renji

Supporting

Tanemura, Kouichi

Supporting

Sukegawa, Denroku

Supporting

Shijima, Sui

Supporting

Shijima, Enishi

Supporting

Oshimizu, Tomoya

Supporting

Oshimizu, Mana

Supporting

Miyagishi, Tooru

Supporting

Matsumae, Ayato

Supporting

Kawajiri, Takako

Supporting

Jiroumaru, Tarou

Supporting
Comming soon!!! But still, you're very handsome.
Please comment for requesting this anime.