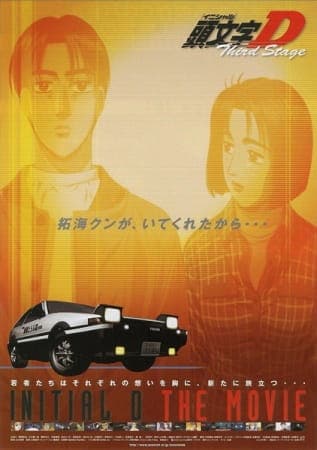 Aired: Jan 13, 2001
Duration: 1 hr. 45 min.
Viewed: 71
Synonyms: Initial D: Third Stage
Shortly after graduating from high school, Takumi is approached by RedSuns leader Ryosuke Takahashi and offered to join him in forming a professional racing team. Before coming up with an answer to the proposal, Takumi seeks retribution by issuing a rematch to Emperor leader Kyouichi Sudou, who previously defeated him due to an engine failure. He is also challenged by Kai Kogashiwa, a second-generation street racer whose father was once a fierce rival of Takumi's father Bunta.
Fujiwara, Takumi

Main

Nakamura, Kenta

Supporting

Takeuchi, Itsuki

Supporting

Takahashi, Ryousuke

Supporting

Takahashi, Keisuke

Supporting

Tachibana, Yuuichi

Supporting

Sudou, Kyoichi

Supporting

Shouji, Shingo

Supporting

Sayuki

Supporting

Satou, Mako

Supporting

Nakazato, Takeshi

Supporting

Mogi, Natsuki

Supporting

Miki

Supporting

Kogashiwa, Kai

Supporting

Kogashiwa, Ken

Supporting

Kenji

Supporting

Iwaki, Seiji

Supporting

Iketani, Kouichirou

Supporting

Fujiwara, Bunta

Supporting
Because we are making use of some free resources to reduce the main server load, the player can be opened on another domain or showed as a new tab (you have to allow pop-up if you're not using Chrome).