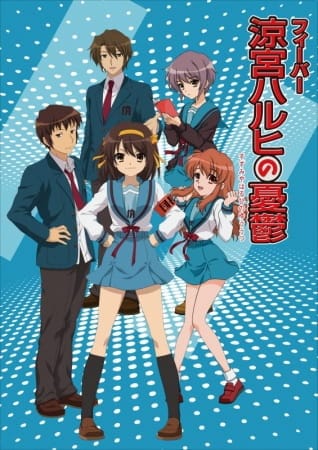 Aired: Apr 3, 2006 to Jul 3, 2006
Duration: 23 min. per ep.
Viewed: 18
Synonyms: The Melancholy of Haruhi Suzumiya
Kyon, your typical high school student, has long given up his belief in the supernatural. However, upon meeting Haruhi Suzumiya, he quickly finds out that it is the supernatural that she is interested in—aliens, time travelers, and espers among other things. When Haruhi laments about the lack of intriguing clubs around school, Kyon inspires Haruhi to form her own club. As a result, the SOS Brigade is formed, a club which specializes in all that is the supernatural. Much to his chagrin, Kyon, along with the silent bookworm, Yuki Nagato, the shy and timid Mikuru Asahina, and the perpetually smiling Itsuki Koizumi, are recruited as members. The story follows the crazy adventures that these four endure under their whimsical leader, Haruhi. The story is based on the light novels by Nagaru Tanigawa. [Written by MAL Rewrite]
Koizumi, Itsuki

Main

Kyon

Main

Nagato, Yuki

Main

Suzumiya, Haruhi

Main

Asahina, Mikuru

Main

Zaizen, Mai

Supporting

Umpire

Supporting

Tsuruya

Supporting

Taniguchi

Supporting

Tamaru, Keiichi

Supporting

Tamaru, Yutaka

Supporting

Shamisen

Supporting

Okajima, Mizuki

Supporting

Okabe

Supporting

Nakanishi, Takako

Supporting

Morimura, Kiyosumi

Supporting

Mori, Sonou

Supporting

Kyon's Sister

Supporting

Kunikida

Supporting

Kimidori, Emiri

Supporting
Because we are making use of some free resources to reduce the main server load, the player can be opened on another domain or showed as a new tab (you have to allow pop-up if you're not using Chrome).