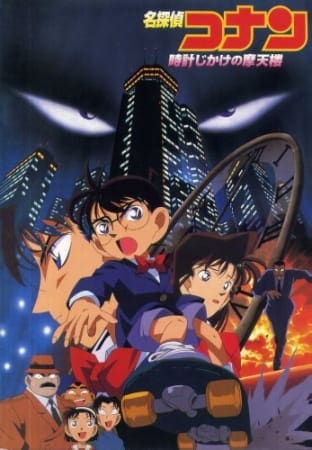 Aired: Apr 19, 1997
Duration: 1 hr. 34 min.
Viewed: 4
Synonyms: Case Closed The Movie: The Time Bombed Skyscraper, Meitantei Conan: Tokei Jikake no Matenrou, 名探偵コナン 時計じかけの摩天楼
Conan Edogawa is facing a dilemma: Ran Mouri has asked Shinichi Kudou out to the movies and he is unable to provide a convincing excuse not to go. However, when the day of the date arrives, he has more pressing problems to worry about—a great amount of plastic explosives has recently been stolen and the culprit has challenged Shinichi to find and dispose of the bombs he has scattered across the city. Now forced in a race against time, Conan must not only protect the city, but also figure out who the mastermind is and his reason for confronting Shinichi. [Written by MAL Rewrite]
Edogawa, Conan

Main

Mouri, Ran

Main

Mouri, Kogorou

Main

Agasa, Hiroshi

Supporting

Announcer

Supporting

Boy

Supporting

Doctor

Supporting

Driver

Supporting

Kojima, Genta

Supporting

Kurokawa, Daisuke

Supporting

Kurokawa, Mina

Supporting

Kusunoki

Supporting

Mayor Okamoto

Supporting

Megure, Juuzou

Supporting

Moriya, Teiji

Supporting

Nakazawa, Manami

Supporting

Okamoto, Kouhei

Supporting

Old Lady

Supporting

Sakaguchi

Supporting

Shiratori, Ninzaburou

Supporting
Comming soon!!! But still, you're very handsome.
Please comment for requesting this anime.