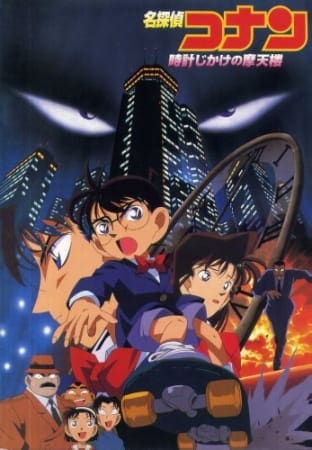 Aired: Apr 19, 1997
Duration: 1 hr. 34 min.
Viewed: 5
Synonyms: Detective Conan Movie 1 : The Time-Bombed Skyscraper
Conan Edogawa is facing a dilemma: Ran Mouri has asked Shinichi Kudou out to the movies and he is unable to provide a convincing excuse not to go. However, when the day of the date arrives, he has more pressing problems to worry about—a great amount of plastic explosives has recently been stolen and the culprit has challenged Shinichi to find and dispose of the bombs he has scattered across the city. Now forced in a race against time, Conan must not only protect the city, but also figure out who the mastermind is and his reason for confronting Shinichi. [Written by MAL Rewrite]
Mouri, Ran

Main

Mouri, Kogorou

Main

Edogawa, Conan

Main

Yoshida, Ayumi

Supporting

Tsuburaya, Mitsuhiko

Supporting

Train Driver

Supporting

Suzuki, Sonoko

Supporting

Store Clerk

Supporting

Shiratori, Ninzaburou

Supporting

Sakaguchi

Supporting

Old Lady

Supporting

Okamoto, Kouhei

Supporting

Nakazawa, Manami

Supporting

Moriya, Teiji

Supporting

Megure, Juuzou

Supporting

Mayor Okamoto

Supporting

Kusunoki

Supporting

Kurokawa, Mina

Supporting

Kurokawa, Daisuke

Supporting

Kojima, Genta

Supporting
Because we are making use of some free resources to reduce the main server load, the player can be opened on another domain or showed as a new tab (you have to allow pop-up if you're not using Chrome).