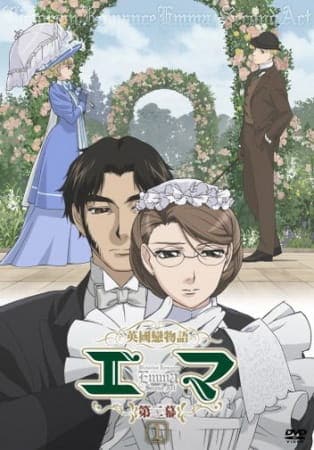 Aired: Apr 17, 2007 to Jul 3, 2007
Duration: 25 min. per ep.
Viewed: 43
Synonyms: Emma: A Victorian Romance Season Two, 英國戀物語エマ ~メルダース編~
In the faraway village of Haworth, a new chapter in Emma's life has begun. Now employed by the wealthy Molders family, Emma has resolved to put the past behind her. She'll have to adjust to a new house, a charming (but eccentric) new mistress, and a host of fellow servants, some with buried pasts of their own. Meanwhile, back in London, William is doing his best to uphold his father's wishes as the Jones family heir, but try as he might, he can't forget Emma. Yet, whenever he feels at his worst, Eleanor is always there to comfort him with a warm, shy smile. Could the answer to his broken heart be right before his eyes? (Source: RightStuf)
Emma

Main

Jones, William

Main

Adèle

Supporting

Annie

Supporting

Atawari, Hakim

Supporting

Campbell, Eleanor

Supporting

Campbell, Viscount

Supporting

Corneo

Supporting

Hans

Supporting

Jones, Vivian

Supporting

Jones, Aurelia

Supporting

Jones, Collin

Supporting

Mildrake, Monica

Supporting

Molders, Wilhelm

Supporting

Molders, Dorothea

Supporting

Tasha

Supporting
Comming soon!!! But still, you're very handsome.
Please comment for requesting this anime.