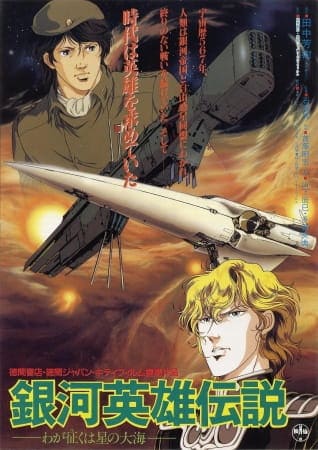 Aired: Feb 6, 1988
Duration: 59 min.
Viewed: 84
Synonyms: Ginga Eiyuu Densetsu: Waga Yuku wa Hoshi no Taikai
Four months before Count von Lohengramm of the Galactic Empire faced Yang Wen-li of the Free Planets Alliance at the Battle of Astarte, he was still just Reinhard von Müsel. The youngest admiral in the Empire's history, Reinhard was disdained and dismissed by his peers as the brother of the Kaiser's concubine. Upon arriving at Iserlohn Fortress with his expeditionary fleet, Reinhard immediately receives an order from the ambitious and cunning Fleet Admiral Gregor von Mückenberger: to intercept an Alliance fleet in a neighboring starzone. Despite recognizing this as a veiled attempt to get him killed in combat, Reinhard nevertheless orders his tired and weary men to engage the enemy in the atmosphere of the gas giant Legnica. But unbeknownst to him, this will mark the first of his many historic encounters with the Hero of El Facil. [Written by MAL Rewrite]
Kircheis, Siegfried

Main

von Lohengramm, Reinhard

Main

Yang, Wen-li

Main

Attenborough, Dusty

Main

von Reuenthal, Oskar

Supporting

von Oberstein, Paul

Supporting

von Muckenberger, Gregor

Supporting

Truniht, Job

Supporting

Tonio

Supporting

Steinmetz, Karl Robert

Supporting

Poplan, Olivier

Supporting

Paeta

Supporting

Narrator

Supporting

Mittermeyer, Wolfgang

Supporting

Mecklinger, Ernest

Supporting

Kurt

Supporting

Konev, Ivan

Supporting

Greenhill, Dwight

Supporting
Because we are making use of some free resources to reduce the main server load, the player can be opened on another domain or showed as a new tab (you have to allow pop-up if you're not using Chrome).