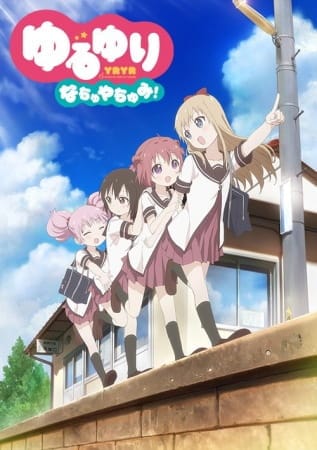 Aired: Feb 18, 2015
Duration: 1 hr. 3 min.
Viewed: 11
Synonyms: Yuru Yuri OVA, YuruYuri Nachuyachumi!, Yuru Yuri Summer Vacation!, ゆるゆり なちゅやちゅみ!
Even during summer break, the Amusement Club lives up to its name! When Akari Akaza, Kyouko Toshinou, Chinatsu Yoshikawa, and Yui Funami find a camping tent, they decide to put it to good use by spending the weekend outside in the mountains. When some student council members catch wind of this, they are invited to come along as well. After a very long journey, the group arrives at their destination and is ready to make the most of their trip. They engage in classic camping activities, such as outdoor cooking and tests of courage, and finish it all off with a visit to the hot springs. An extravagant trip like this doesn't happen every day, but the Amusement Club is sure to savor each moment. [Written by MAL Rewrite]
Funami, Yui

Main

Toshinou, Kyouko

Main

Yoshikawa, Chinatsu

Main

Akaza, Akari

Main

Yoshikawa, Tomoko

Supporting

Sugiura, Ayano

Supporting

Oomuro, Nadeshiko

Supporting

Oomuro, Hanako

Supporting

Oomuro, Sakurako

Supporting

Nishigaki, Nana

Supporting

Mirakurun

Supporting

Matsumoto, Rise

Supporting

Mari's Mother

Supporting

Ikeda, Chizuru

Supporting

Ikeda, Chitose

Supporting

Furutani, Himawari

Supporting

Furutani, Kaede

Supporting

Funami, Mari

Supporting

Akaza, Akane

Supporting
Comming soon!!! But still, you're very handsome.
Please comment for requesting this anime.