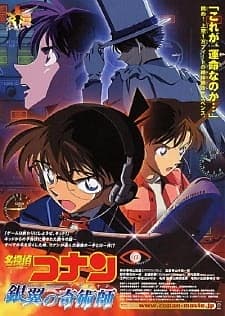 Aired: Apr 30, 2004
Duration: 25 min.
Viewed: 10
Synonyms: Detective Conan Movie 08: Time Travel of the Silver Sky
Professor Agasa has created a computer program that can give you the identity of anyone in the world. He decides to use it on figuring out who Kaitou Kid is. Before he does, the program gives him a history of the Kid, as well as preview clips of the eighth movie. When he is about to finally figure out who the Kid is, Kid appears on the computer screen, announcing he has hacked the program. (Source: detectiveconanworld)
Because we are making use of some free resources to reduce the main server load, the player can be opened on another domain or showed as a new tab (you have to allow pop-up if you're not using Chrome).